Massage Therapy Scunthorpe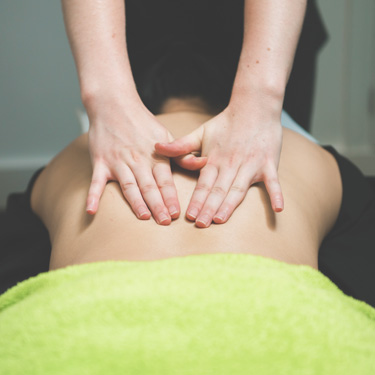 Given the many challenges lots of people are experiencing these days due to the coronavirus, and demands of career and family, it's no wonder that so many people are stressed. If you're looking for a natural way to address stress and tension, consider massage at The Chirohealth Clinic.
The massage that's provided here is therapeutic in nature versus one that you'd typically get at a spa. However, if someone comes in seeking a relaxation massage for stress reduction we can offer that too!
Deep Tissue Massage
Deep tissue massage is a massage technique that's primarily utilised to treat musculoskeletal issues, such as strains and sports injuries. It involves the application of sustained pressure employing slow, deep strokes to target the inner layers of the muscles and connective tissues.
This approach helps to break up scar tissue that forms following an injury and reduces tension in the muscle and tissue. It may also promote the acceleration of healing by increasing blood flow and decreasing inflammation.
The deep tissue massage is performed under the supervision of the Chiropractors and Osteopaths as they let the massage therapists know the areas that need special attention. Our massage therapists are highly trained and skilled enough to address those areas and look for any others that could benefit from massage.
BOOK NOW »

Some of the Benefits of Massage
While we can't guarantee any particular results from massage, here are some benefits that you may experience:
Promotes relaxation
Reduces stress
Relieves pain
Decreases anxiety
Enhances sleep
FAQ
Can I come in for maintenance massage?
Yes, many people have massage as part of their care plan, and then lots of patients do continue to have massage after their care plan. So they'll come for chiropractic or osteopathy and massage perhaps once a month just for maintenance, to make sure they keep the progress that they've made during their care with us.
Yes, one of our therapists is trained in providing sports massage. This type of massage may help to prevent and address sports-related injuries.
Do you recommend massage as part of a patient's care plan?
Probably 90% of the time, we would recommend massage in conjunction with chiropractic or osteopathy and at the appropriate stage in the care plan. That usually means once we're through the initial pain relief phase of the plan. However, everyone is different and massage will be recommended at the appropriate time for you.
Do I have to completely undress?
It's up to you. You can choose to disrobe to your level of comfort. Some people elect to undress down to their underwear and others choose to leave more clothing on. Everyone can wear one of our gowns and you will always be appropriately draped at all times to keep you comfortable and also warm! If you choose to remain dressed, it's ideal to wear something that is light and loose-fitting so your therapist will be able to massage tissue through your clothing.
How is massage therapy an important adjunct service to chiropractic or osteopathy?
At The Chirohealth Clinic, our massage therapy is an excellent complement to chiropractic or osteopathic care. Our chiropractors and osteopaths focus mainly on your joints, nerves and skeleton to improve how your body moves and functions. Massage therapy helps to increase the blood flow to soft tissues to facilitate faster healing in that location, plus massage increases range of motion and relieves pain.
Is there anything I should do before or after my massage?
Be sure to drink plenty of water before and after your massage appointment. Stressed muscles can become inflamed and toxin buildup may prevent vital nutrients and oxygen from getting to where they need to go. Pain and stress can then result.
A massage begins to break apart and release those built-up toxins as your therapist loosens your muscles. It allows your blood and oxygen to circulate properly but a massage can be dehydrating. So making sure you are hydrated before and after a massage is advisable because the water helps flush those expelled toxins out.
Contact Us Today
Call 01724 871222 to book a massage session.

Massage Therapy Scunthorpe, North Lincoln LIN | 01724 871222