Ongoing Mojo Growth
Join Us Today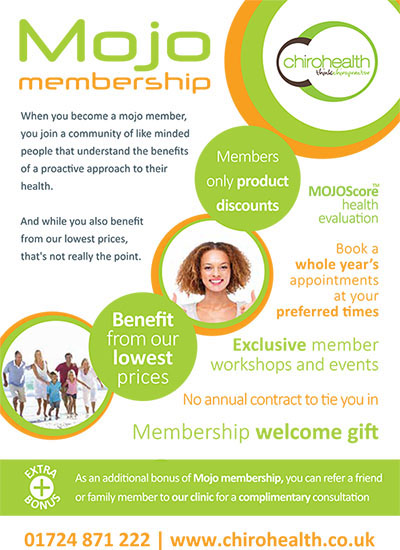 When you become a MojoMember™ at The Chirohealth Clinic, you will join a well-being community that understand the benefits of a proactive approach to their health. And while you will also benefit from our lowest prices, that's not really the point!
Joining membership and being part of our wellbeing community has hidden benefits. Health discussions and workshops, being active in our Facebook group, receiving health related emails and being drawn in to our NATURAL health culture will result in you becoming invested in your results; healthy living starts to creep into every facet of your lifestyle. You start planning what you eat, you'll notice how your stress levels are affecting your health and make changes, and you'll force yourself to get the extra steps in to reach your 10,000 goal (or higher!). Simply put, we want you to get all the benefits of hanging out with us too!
For details of the different levels of membership and pricing, please see the information in the clinic when you're next with us.
Membership benefits include:
Chiropractic and Osteopathic care from a team that wants you to live a Mojo life!
Welcome pack with your choice of gift
Our best prices
12 months priority booking
Bi-monthly newsletter
Annual MojoKickstarter reassessment to assess your health goals
VIP invitations to annual events (Christmas Jingle & Mingle Party, Summer Bring and Bounce Party)
Member exclusive competitions, gifts and special offers
Free access to live and virtual workshops
Discounted products
Refer your friends and family for FREE – saving £70 per person!!! (T&C Apply)
Coming soon – FREE SUBSCRIPTION to The Back Room, your home support program.

The Chirohealth Clinic Membership | 01724 871222